Recipes for fried donuts in the pan. Classic step-by-step recipes for donuts on kefir
Good day, all my blog readers!
Have you ever eaten buns? And such gourmands on kefir or milk, with sour cream and sugar, or perhaps on water? It turns out there are a lot of options for making these airy snacks.
The most important advantage among other pastries is that they do not stale for a long time if they are covered with a bowl or a plate. I myself hastily bake such goodies often, and it's not important that I take it
woo kefir or milk, and maybe even homemade simpletons, crumbs fried in a frying pan are always appetizing and very tasty.
My kids love this delicacy too. Moreover, if you make funny and funny bears or other heroes, geometric figures out of dough, then this baking will be eaten in a matter of minutes. And so that it is sweeter and tastier, I always try to sprinkle these sweets with powdered sugar.It all looks very appetizing and tempting!
Puffs - the easiest recipe for cooking
I present to you the easiest and fastest version of this tasty and fragrant baking. This type of classic buns on kefir, which are fried in a pan.
We will need:
kefir - 250 ml

sugar - 5 tbsp. l

baking soda - 1 tsp

salt - 0.5 tsp

vegetable oil for the test - 2 tbsp. l, and for frying separately

egg - 1 pc.

flour - 4 tbsp.

vanilla sugar - 2 tsp

lemon peel - 1 - 2 tsp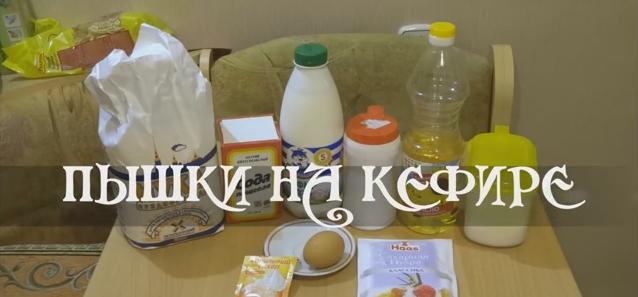 Cooking method:
1. Take the kefir and pour it into a glass bowl. Add soda to it, and mix well. Thus, the soda will be extinguished in kefir and there will be no unpleasant aftertaste when you eat the finished product. Put aside a bowl for 10-15 minutes just to stand.
2. Meanwhile, in another bowl, break one chicken egg. And add sugar, vanilla and salt to it. At the request of sugar, you can take not 5 spoons, but a little more, if you want your buns to taste very sweet 🙂 Lemon zest can not be used, but if you still use it, you will get an aromatic taste. It will be very tasty and the smell will be just awesome.
3. Next, add the vegetable oil.And mix everything thoroughly with a whisk.
4. After 10-15 minutes, pour the egg mixture into kefir. And stir well too.
5. Now add the flour gradually, stirring each time with a spoon in a bowl. Flour is better to take sifted, so that it is filled with oxygen.
6. Roll out the dough onto the table; it should make it light and a little sticky.
7. Next, cut out a small piece of dough. And roll, sprinkling it with flour, into a big cake. The thickness of the dough should be approximately 1 cm.
8. Take molds and make curly buns.
9. Now put the blanks on a hot pan with vegetable oil. And fry on low heat until the dough has a golden crust. Then flip to the other side, and remove from the pan.
10. Finished buns will need to be laid out on a plate covered best with paper napkins so that excess fat is absorbed into the napkins.
11. The dessert is ready, decorate them sprinkled with powdered sugar. Serve with jam or jam. Air and fragrant tea cakes are ready for tea! Bon Appetit!
By the way, the caloric content of such buns on kefir is 325 Kcal per 100 g
Lean dainty without eggs
Have you ever had such a thing that you were going to quickly cook something and forgot to buy an egg in the store. I am convinced that it was, and not once.So? in such a case, there is also such an option without eggs. Cook with pleasure and the result will surely please you!
And the second option without eggs, will not leave anyone indifferent. It is prepared with pickle pickles. I refer this species to the Lenten mind.such gourmands on cucumber pickle.
Therefore, if you are fasting, yes, or just want to diversify your menu, you can try this option.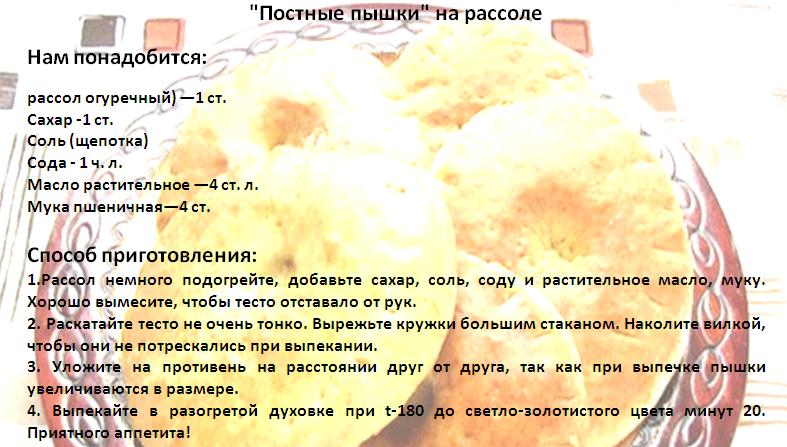 The classic recipe for donuts on kefir, fried in a pan
Pyshechki, pampushki can be called as you like, no one will be forced to stand aside, since they resemble the taste of fragrant, airy buns. And in fact, they are preparing for quick. Such a dish on kefir turns out to be a chur airy, and if you replace kefir with yogurt, you will get even tastier. Try, you will not regret, my mother always bakes such beauty on homemade yogurt.
Nowadays, meat, cottage cheese, berries, and even nuts are added to the dough for this dish, but everyone's favorite flavor is still the classic recipe for this dessert.
This version of the classic crusty on kefir with step-by-step photos you will see later in this article. They are very often called baby buns.Have you ever heard such a name? It really sounds funny baby 😆
Many people write to me and ask how best to cut the dough? It seems to me that the answer to this question is very easy, cut the way you like, circles, squares, little animals (with the help of molds), asterisks, you can even make it in the form of brushwood. Someone even calls this pastry korzhikov and makes them in the form of diamonds.
We will need:
Flour - 500-600 g

Kefir - 350 ml

Soda - 1 tsp;

Salt, granulated sugar to taste

Drinking water - 1 tbsp.

Vodka - 1 tbsp. l

Crude oil - 3 tbsp. l
Cooking method:
1. To start sift flour.
2. In kefir, enter salt, sugar and necessarily soda, which itself will be quenched with the interaction of kefir. When you see bubbles on the surface of kefir, then slowly pour in water.
3. Then gradually, slowly pour the flour in portions. Be sure to stir thoroughly each time so as not to form flour balls. When the dough becomes a bit like the dough, pour in the vegetable oil and then knead the dough with your hands, not with a spoon.
4. The dough should make it sticky, a little sticky, but soft at the same time.
Important! Knead the dough correctly.If you shift the flour, then when frying pastries rise badly! They will look flat and very heavy, that is, not airy.
5. Best of all, they are obtained when you do not use the dough immediately after kneading it, but when it dies and rest. You can, of course, and immediately after kneading, roll out the dough and make these pies, nothing terrible will happen.
6. So, divide the dough into 4 parts. From each part with a rolling pin roll out a circle. And with the help of molds make round tortillas.
7. Fry babies in a pan with vegetable oil until a beautiful crust. Remove excess fat with a napkin, putting it on a napkin made of paper.
8. Invite guests to drink tea, because ruddy and fragrant babies, like their grandmothers are ready in childhood. Dust with powdered sugar and serve with condensed milk or chocolate paste.
Cooking a sweet dish on the water
No one will argue with the fact that in our time pastries are very diverse. You can cook for every taste and choice. But, very often you want to remember the favorite desserts of our grandmothers and mothers, which we remember from childhood. These sweet desserts are our pampushki on water with the addition of soda.I remember as a child I loved to dip them in jam, jam, or even better in condensed milk (condensed milk).
And if you make such things bland, that is, not sweet, then they can be used as a kind of bread.
We will need:
wheat flour - about 300 g;

water - 300 ml;

salt - 10 g;

granulated sugar - 20 g;

soda - 7 g;

cooking oil for frying
Cooking method:
1. In the usual cool water (you can take water from under the filter or buy drinking water without gases in the store), put salt, sugar and some soda. Stir to dissolve well.
2. Sift flour and begin to gradually introduce it into the water. The dough should work out like on pancakes. And it is at this stage that you smash some more soda again. This action will give baking lightness and lightness. Then again sprinkle with flour and roll out a good soft dough.
3. Make dough small cakes or circles with a thickness of 0.8-1 cm with a rolling pin. In the center, make one puncture with a fork so that they are magnificent. Small cuts can be made along the edges of the circle, and when they are fried in oil, they will look like flowers.
4. Pour vegetable oil into the pan and fry our babies in it. Serve with hot tea or coffee.It will be insanely delicious! Bon Appetit!
Pyshki on sour cream or yogurt in a hurry
It turns out that this option on sour cream is a recipe called "Lyubasha". Such things are baked very quickly, and kids and guests eat them in a matter of minutes.
We will need:
egg - 1 pc.

sugar - 3 tbsp. l

sour cream (sour milk or mayonnaise, what is in the house) - 3 tbsp

vanilla sugar -0.5 tbsp

salt on the tip of a knife

soda - 0.5 tsp and vinegar for quenching

Vodka - 1 tbsp

flour vegetable oil for frying

powdered sugar
Cooking method:
1. Mix egg, sugar and salt. Whisk everything well with a whisk.
2. Add to the resulting mixture any dairy product (sour cream, yogurt or mayonnaise) and vodka. Mix everything.
3. Quench the soda with vinegar and add it to the resulting dough.
4. Slowly add the flour, stirring. Make the dough is not very thick, but so that it does not stick to your hands.
5. Next after the dough is ready. Cover it with a cup or wrap it with a wrap and rest for 30 minutes.
6. Now roll out the dough into a thin layer of about 0.5 - 0.8 cm and with the help of various figures, you can take an ordinary glass to make figures from dough. Thus, you get curly delicacies.I had different types of molds, geometric shapes and animals (animals). It turned out very funny.
7. Pour the vegetable oil into the pan and heat it well. Fry delicacies on both sides until golden brown. Do not forget to turn down the heat a little after burning the frying pan.
8. Prepared donuts powdered with powdered sugar. Bon Appetit!
How to make such baking in the oven
Everyone is used to making them mostly in a frying pan, that is, frying them in vegetable oil. I decided to experiment and make almost the same dough on sour cream, but only to bake this yarn in the oven. It turned out too great and incredibly beautiful.
You can even call such pyshechki cookies, at least buns. To me, in principle, is not so important, the main thing is delicious. These buns rose in the oven just awesome, I am delighted, because the dough is bezdrozhzhevoe. As you have such an idea, try and bake such culinary creations.
We will need:
flour - 200 g

sour cream - 0.5 tbsp.

egg - 1 pc.

sugar - 3-4 tbsp.

soda - 0.3 tsp

salt - a little bit

egg yolk - 1 pc.
Cooking method:
1. In sour cream extinguish soda. Mix egg, salt and sugar. Then pour the egg mixture into the sour cream. Stir with a whisk
2Gradually add flour to the mixture.
3. This option does not add vegetable oil, at a certain point when you knead the dough, it will no longer stick to your hands and you will understand that the dough is ready.
4. After kneading, let the dough rest, cover it with a cup, let it stand for a while.
5. Now divide the dough into 2 parts. Roll out each part with a rolling pin to a thickness of about 1 cm. Cut it into small rectangular pieces. Like this:
5. Make curls, for this in the center of the rectangle make a cross cut with a knife, puncture and turn out the rectangle.
6. Put on a greased baking sheet. Top the egg yellow on top. You can add a spoonful of water to the egg yolk in order to get more lubrication if you bake a large amount. Sprinkle with poppy seeds or cinnamon.
7. Bake in the oven 180-200 degrees until a beautiful crust. Dessert is ready. Cook with pleasure.
By the way, such krasatulki in the oven can still be donegarlic. To do this, just need to anoint them with garlic oil.
How to make, cook garlic oil?
Take garlic cloves, enough 3-4 things. Grate it on a fine grater or skip through the garlic press.Add this garlic gruel to vegetable oil (5 tbsp) and let it brew. After the treats are baked in the oven, spread them with this garlic butter.
I think that in the season of colds and flu, this sauce (butter) for baking, as a means of combating viruses, can be used. And tasty and healthy!
Curd puffs in a pan
Such a curd dish turns out to be wonderful to the taste, I personally remind of some pleasant curd product.
To diversify today's note, I made such cottage cheese delicacies in the form of kalachik. You can also call this dessert cottage cheese donuts. But, about donuts will be devoted to a completely different article. Probably just as accustomed, and calls this sweet pastry. For me, the curd buns are fellow donuts.
The ingredients are very simple and are always on hand, so it's a pleasure to fry such a dessert. No need to invent and make a huge list of products.
We will need:
egg - 1 pc.

flour - about 1 tbsp.

cottage cheese - 150 g

sugar - 1 tbsp;

Soda - 1 tsp (and vinegar to pay off)

powdered sugar
Cooking method:
1. Take a special dish in which you knead the dough. Add cottage cheese, egg and sugar to it.Fork mash cottage cheese for a smooth consistency, so as not to be a lump and balls.
2. Take soda and vinegar. Note this is the first form in which we have to extinguish soda, because neither sour cream nor kefir is used here, which means that if the soda is not quenched in vinegar, then the finished flour product will have an unpleasant taste and give off soda. Make a soda in vinegar.
3. Add slaked soda to the curd mixture. Add more flour and knead the dough. Dough should not stick to hands. It should be soft and tender.
4. From the dough "make" cottage cheese rings.
5. Roast the curd rings in a hot frying pan with vegetable oil on both sides.
Have a nice tea party. Trout on top with caster sugar.
Yeast and no yeast options
It's no secret that this dish can be cooked and baked with or without yeast.
All previous options were without yeast, or yeast-free.
The video shows an option on the lees, it is light and simple, snacks are obtained like those of a grandmother, very gentle and airy. Cook by this type and you will love it very much!
Leningrad donuts - a recipe for margarine
Recently, my friend returned from St. Petersburg and praised that she
I ate such buns that I have never tried. As it turned out, she was in the same cafe on Pyshechnaya on Zhelyubova Street, now she is really called Bolshaya Konyushennaya Street.
So when I wrote this note for you, I had the idea to publish the Leningrad (St. Petersburg) buns in this article. I hope you will not mind ?! 🙄 This option will be Gostovsky, that is, according to GOST.
This option is simple, but it takes a certain amount of time, because the yeast dough, it must stand. So, how to cook Leningrad pampushkas at home?
We will need:
first grade flour - 270 g

yeast - 8 g

salt - 1 tsp

sugar - 3 tbsp. l

water -190 g (according to GOST, 155 g are laid for our Russian flour)

egg - 1 pc.

margarine - 15 g
Cooking method:
1. Add hot water (50 g) to the margarine, and it will melt by itself. Add salt and sugar, mix.
2. Yeast dry one bag pour in a glass and pour warm water (140 g). Wait a little, about 10 minutes, so that they become a hat in the glass. Pour the resulting liquid into margarine.
3. Add an egg to the mixture. Stir.
4. Now add to all this flour, mix thoroughly. Get a good elastic dough.Put the dough in a bowl for 4 hours in a warm place; do not forget to cover it with a film or a towel.
5. After the time, roll out the dough onto the table. Good on the table mash the dough. And after it make kolobochki. And leave these balls for another 20-30 minutes to get up.
6. Make balls of balls, any shape, for example in the form of rings.
7. Fry buns in a frying pan with vegetable oil on both sides until brown. And after the finished gourmet powder powdered sugar.
Video recipe puff sweets
I never thought that they can be made puff. Imagine, but it turns out possible and even not at all difficult. For those who like to watch and listen, I suggest this video:
How to cook the most delicious muffins. Advice
& The dough is best rolled 1 cm thick, then they will definitely be airy and not flat. Do not roll the dough thinner than one centimeter, they will turn out flat and unappetizing.
& Do not feel sorry for the oil in the pan, if it becomes small, then pour it. Do not worry, donuts do not harm it!
& The obligatory ingredient in this dish is sugar, it is he who gives that golden shade, but do not overdo it.
& Vegetable oil in a pan should be hot, it will help you avoid moisture inside, that is, there will be no baking that is not baked.
& For a fluffy dough, you can add a little semolina. But I honestly never added 🙂 I'll have to try.
& The secret of softness and airiness of sweet ruddy delicacies in the secret ingredient is vodka. Sweet pastries certainly from this drink will be more soft.
You can grease with butter, or sweet syrup, tart with powdered sugar. And you can even smear oddly with plain water, which will help keep the baking soft.
& When frying, be always near the pan, because they are fried very quickly, you can say instantly, and a little distracted, and the culinary masterpiece can be spoiled.
& Serve with tea, jam, jam or honey. Can be with condensed milk, or sweet syrup. And you can sprinkle and cook with cheese, just sprinkle grated cheese on top. In general, a flight of fancy))) and it will be fucking awesome!
Imagine, she was going to finish writing an article, and then my husband brought me a newspaper in which I stumbled uponEnglishrecipe. I publish it.
I have to say, the English donuts are made using yeast, maybe for someone, this option will not be useful. Due to the fact that he is interested in instant baking. This option takes a little time, since the English are yeast.
These beauties can be used and taken as the basis for sandwiches or burgers. They look quite appetizing. When I tried them, I wanted to dip them in honey. It turned out very cool.
We will need:
Milk - 3/4 tbsp.

Butter, 3 tbsp. l

Salt - 1.5 tsp

Sugar - 2 tbsp. L

Egg - 1 pc

Flour - 4.5 tbsp.

Yeast - 2 tsp;

Semolina, used for sprinkling
Cooking method:
1. Dissolve the yeast in warm milk. Let stand up until the cap rises. Next, hammer in one egg and melted butter.
2. Then add salt, sugar and flour to the ingredients. Stir all well.
3. Knead the dough, it should become elastic. Next, cover the dough and put on an hour in a warm place. Let it rise.
4. After the dough has doubled, make a lot of balls out of it. And then flatten these balls with your hand. Get small beautiful cakes.Put them on the surface of the pan greased with vegetable oil and sprinkled with semolina, semolina will not allow the dough to stick to the pan. After these actions, it is necessary that the tortillas start up, that is, let them stand for some time. Cover the pan with a napkin.
5. Now turn on the stove and fry the tortillas on low heat. Remember to turn them over when frying to the other side. Pleasant impressions!
At this I will say goodbye to you. I hope that now your tea will be even sweeter, with such a selection of culinary creations. Invite friends, guests and treat each other. All the best and beauty. Have a nice day my favorite guests and blog followers.