Poems about fingers for children: 17 best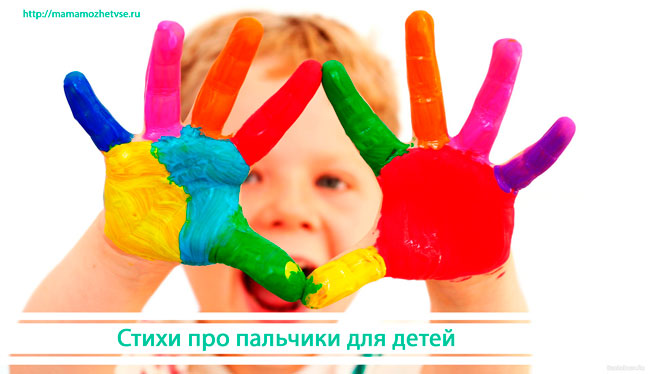 The site "Mom can do everything!" Collected 17 interesting poems about fingers for children. With them, the kids will easily remember the names of the fingers, as well as learn to play finger games. These games are very useful for the development of hand motor skills, they will help to entertain the baby, develop memory, and also improve his coordination.
I lost hands (hide hands behind my back),
Maybe they ran away from boredom in the zoo?
No, there were my runaways, (show hands)
They were in a jar with jam.
My pens are just a treasure.
***
Little pinkie - crying, crying, crying,
Unnamed will not understand
what does it all mean,
The middle finger is very important
does not want to listen
Index asked:
"Maybe you want to eat?"
And the big one runs to the kitchen,
drags porridge spoon,
says: "Do not cry,
on, eat a little bit! "
***
Four brothers are coming
Meet the eldest.
-Hello, bolshak! - they say.
- Hello, Vaska-pointer,
Bear-ear
Grishka orphan
Yes baby Timoshka.
***
Once sat on the bench
Our friendly family:
The very first mom sat down
Next - our strict father.
Next brother and sister.
Well, where can I fit?
***
This finger wants to sleep
This finger went to bed
This finger has a little nap
This finger already fell asleep
This is sound asleep.
Hush, hush, do not make noise ...
The red sun will rise
The morning will come clear
There will be birds twitter
There will be fingers to get up!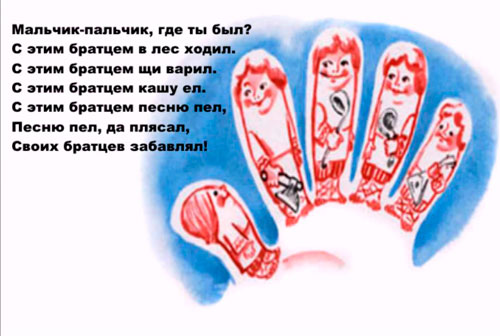 ***
Bolshaku chopping wood,
And you wear water,
And you stool pech,
A baby song to sing
Songs sing yes dance
Siblings to amuse.
***
This finger is a grandfather,
This finger is a grandmother
This finger - daddy,
This finger - Mom,
But this finger - I,
That's my whole family!
***
Girls and boys
There are five fingers on the hand:
A big finger - a guy with a soul,
Finger index - Mr. influential,
The middle finger is also not the last.
Finger nameless - with a ringlet goes chuvanny,
The fifth - the little finger, brought you a present.
***
We counted on the fingers
And terribly laughed:
Is it fingers?
Well these are just boys!
Here is a big, funny fat man,
Likes to brag just like that.
How are you? - ask him.
He will jump, shout: -Bo!
Index finger,
Wonder, point the way,
And then stuck in the nose:
Somewhere you need to relax!
The middle finger is an evil boy.
Click on the forehead - there will be a bump
Clicking on the ball - the ball will burst,
Snap - and the mosquito faint.
Name till morning
Selects names:
Maybe Petya? Or Vova?
Or Alla Pugacheva?
Thumb-boy? Karabas?
Everything was already a thousand times!
Tired, it's time to sleep,
Better choose in the morning!
And the little finger is my favorite!
I'll lead him to the menagerie
I'll buy him an eskimo–
Very little love!
***
My little finger, where have you been?
With Nameless soup cooked,
And with the average porridge ate,
With Pointing sang.
And Big met me.
***
This little mouse is sitting in the hole,
This little mouse in the field is running,
This little mouse ears thinks
This little mouse collects grain,
This little mouse screams:
"Hooray, everyone get ready, it's time to have lunch!"
***
We chop cabbage chop
(speak rhythmically, this is not a song,
handles show how we chop the cabbage)
We have three carrots, three
(handles show how we three carrots))
We cabbage sooolim sooolim ...
(fingers pinch - salt)
We mnem mint cabbage ... (pens "mnem" cabbage)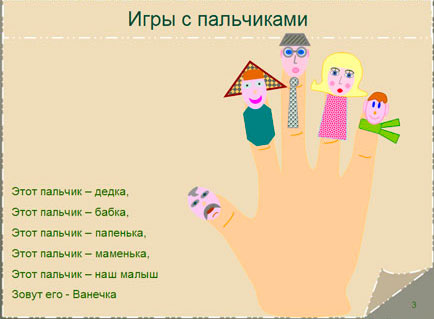 ***
We shared an orange!
("orange" cam in front of you)
A lot of us (the left hand is spreading is "we")
And he is one (look at the cam)
This slice for kittens
(turn down one finger)
This ducklings slice
(turn down the other finger)
This wedge
(bend down the third finger)
This slice for chizha
(fourth)
This beaver slice
(fifth)
And for a wolf peel!
(shake the former cam - as if skinned)
Angry wolf - trouble
Scatter who where!
***
This finger is small,
This finger is weak,
This finger is long,
This finger is strong,
Well, it's fat,
And all together - the cam!
***
On a walk
On the road, at the fork,
We met two teasers.
We met, teased,
Could not resist - and grappled!
Ran raznimaalki-
Hindered skirmish.
And to the fork in the mare
Two peacewinks jumped.
Skirmish,
And then came counting:
One, two, three, four, five-
Good friends count!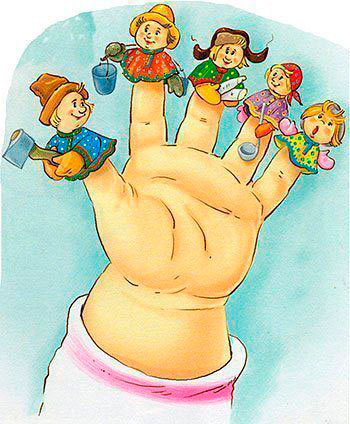 ***
Fingers in the forest
One, two, three, four, five.
Left fingers to walk.
This finger mushroom found.
This finger began to clean.
This cut.
This ate.
Well, this one just looked!
***
Little fingers
Ten fingers-
Ten brothers:
Right five
And five left,
Began to think
And guess
Like each other
Call.
The very first,
You are big,
Index -
Second,
The longest
You will be - the average.
Unnamed -
Penultimate.
And little finger - behind.
You are a little finger. You drive